NEW ALL-IN-1 LASER ENGRAVER & CUTTER SPIDER X1 BEST IN MARKET
The Spider X1 Ultimate Modular All-In-1 Laser Engraver & Cutter recently surpassed over $510,000 pledged on Kickstarter  and it isn't hard to see why. This revolutionary machine allows you to create efficient and truly beautiful pieces. The Spider X1 offers the largest work area with the best experience for small, medium, and large engraving projects and is the best available product for furniture creation.
The Spider X1 prices is now on sale for $483(10W) and $683(20W), which is up to 28% off normal retail price.
Many other engraving tools allow for less than ideal creation methods which are both messy and complicated. The Spider X1 removes this problem by offering users a convenient one-time cutting experience, expandable length to allow for larger models, and expandable kit options to extend the length and increase the size to allow for even larger engraving projects.
One customer in particular utilized the Spider X1 to create something magical for their child. "I came across a miniature bench in a fairy tale, and I was inspired to create a larger version for my baby," they noted. "The Spider X1 Laser Engraving and Cutting technology allowed me to create a custom piece of furniture that was both functional and stunning … The intricate designs and details were mesmerizing, and it was a true work of art."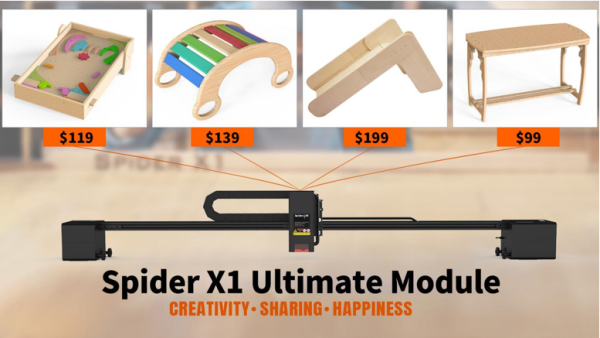 The Spider X1 gives high-end features for every type of creator. The Spider X1 allows for all types of modulation and is easy to travel with. Other features include an assembly free experience, multiple material engraving capabilities, a touch screen with four operation modules, a reserved air assist module and more. For a complete list of features, reviews of the product, and more, please check out the Spider X1 Kickstarter page available here.

The Smileme team are experts in professional modeling and are committed to the continuous exploration of the field of laser engraving and cutting. The Spider X1 is the newest series of Tyvok brand and is available on Kickstarter for a limited time. This is the second Kickstarter formed by this team.
Media Contact
Company Name: SMILEME TRADE LIMITED
Email: Send Email
Phone: +86 18676716608
Country: China
Website: https://www.kickstarter.com/projects/1295051943/spider-x1-ultimate-modular-all-in-1-laser-engraver-and-cutter?ref=42eztv